Podcast #0

TDM decided to do a test run for next year's monthly podcast! Now, just a head's up, we had a bandwidth failure (this was broadcasted live) which caused us to cut out and we had no idea. Fortunately, we made this podcast FOR technical problems. We needed to figure out what we needed to mess with to get everything rocking out, such as the microphones (Yes, we had clip-on mics, but they required a different power source than what we had to use).

​Beyond the technical issues, we had fun! Each podcast will be filmed live on our Facebook page, until we get YouTube rolling properly. So watch, have a couple laughs, and we'll see you guys in a couple weeks for the "Dark Matter: Code Red" release!
Powered by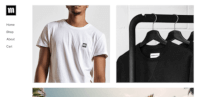 Create your own unique website with customizable templates.