So it's probably best to say this now, but William Ordazed is actually dead in the Dark Matter timeline (starting with the beginning of the novel). He was Collin Williams'/Dark Matter's arch nemesis for several years. Ordazed is pure evil. He hated anyone weaker than him, which was basically everyone. His kill count is tremendous, and it doesn't help that he is a mutant. His powers included advanced healing, strength, the ability to manipulate any form of earth, and several powers that he kept to himself for planned, future use. He died just over two years before the novel when Dark Matter caused a mountain to collapse on top of the madman during a fight in an underground Industry facility.

Again, we must iterate: Ordazed is currently dead, but the upcoming banner was made as a tribute to the character, despite that he has not appeared in any media. He's extremely important in Code Red as he has aided in shaping Collin Williams'/Dark Matter's personality.

Powered by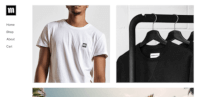 Create your own unique website with customizable templates.