On January 5th, follow the story of a young man shot into the action he fought to avoid. Collin Williams is a high-classs mutant that was exiled to Earth two years ago. When a newly-discovered sibling is being crowned queen of Monarchus, he is thrown back into the cosmos. The Industry, an evil organization bent on stealing Collin's dark matter powers, is ready. They've prepared for war. Now, they test the Alliance. Collin has been restricted from utilizing his dark matter powers for two years. Will he be able to tap back into these powers and save the universe?

Taylor W. just announced yesterday on the Dark Matter Universe Facebook that the novel teaser trailer will be released. In his words (said in person), "It's nothing fancy. Just a few words, the novel title, and the release date."

We'll be sending that out to everyone on all of our social media platforms sometime this week. Taylor has not given an exact day, so it may happen without notice. Be ready!

Powered by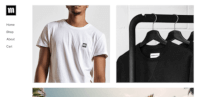 Create your own unique website with customizable templates.