"I want to start by apologizing for the scheduling of releases getting completely offset. I'm fully aware of June's content all being delayed and promise that TDM Studios is pushing to fix things. On the bright side, We got Hostile Comedy putting out daily content.

"Many of the guys up here have a rough summer up until now, and I personally have been working on getting my cars running (neither is in good shape). In other news, a new TDM Studios artist will be selected soon from over 50 candidates. Stay tuned, and here is the Table Manners strip from June!"
Powered by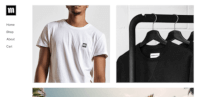 Create your own unique website with customizable templates.