Taking place over a year before the events of Dark Matter: Code Red, something has stirred beneath the surface of the Earth-like planet, Terra. The seaside caves of a small town have been reported to be haunted. The Alliance has dispatched a band of Agents to uncover whether or not this disturbance is related to the Industry. What chaos awaits in the dark below?

Starting now, Table Manners is getting a monthly release! We released a little sneak peek last week, and the first official strip came out today! All Table Manners can be viewed on the comic's official page!

​

The Harkins family, along with a close family friend, are taking a personal family vacation on Aeris. Things don't go as planned.
Powered by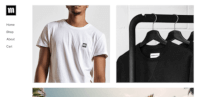 Create your own unique website with customizable templates.