We're almost caught up with "Table Manners". Below would have been September's comic strip, but...obviously...it's being released now! October's IS sketched and mostly digitized, though Taylor just left the office for the evening. He says it'll be done tomorrow evening, so go with that.

On another note, Taylor is nearly ready to release another "Dark Matters" short story. What we're wondering is he mentioned some thing called "Blue Dude". It was apparently in pre-production before he left his last company. Maybe one of you guys knows about this?

Powered by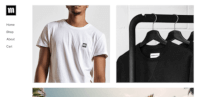 Create your own unique website with customizable templates.