Dark Matter is our team's prime directive so to speak. The franchise will include several forms of media, though as of now, only the upcoming novel is ready for print. Taylor created the earliest concepts when he was at the age of 12, and has re-started twice since. Finally,12 years later, he is excited to finally boot the series.

Dark Matter chronicles the life of Collin Williams, the titular hero. Through thick and thin, he learns the values of family and friends, suffers intense internal conflict, protects those who need protection, and much more.
Powered by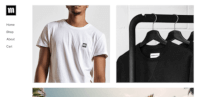 Create your own unique website with customizable templates.